The signage company Modulex in Billund, Denmark achieved a better work environment when they introduced customized lifting equipment from GMV.
"Our new lifting equipment from GMV ensures a good working environment for our employees. GMV led the project with great competence all the way from beginning to end." says Kim Pedersen, CEO, Modulex Billund, Denmark.
At Modulex they are specialists in manufacturing and implementing different signage and wayfinding projects. The product range is wide and consists of everything from wall graphics and façade signs to custom pylons and digital print. In addition to this, they have great experience with developing customized solutions.
Heavy lifting put a strain on the employees
The wide product range demands great flexibility in the production which for the most part, involves lifting and handling of large and heavy elements and moving them from a to b. All this ads up to a lot of heavy lifts in awkward positions during a workday and puts an inappropriate amount of strain on the workers.
The production of outdoor monoliths requires both lifting and rotating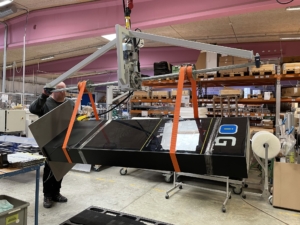 During the production process of large outdoor monoliths made for a new large hospital in Denmark, Modulex must lift and rotate the monoliths to access them on both sides. With a weight of 130 kg. and a length of 4 meters they are both large and unmanageable for the workers.
Having to rotate the elements meant we had to come up with a custom-made solution. Our competent engineering team developed a solution where the monoliths are fastened with lashing straps and are then rotated using coils. The lifting equipment is suspended in an existing fixed column crane.
Mobile lifting aid that can be used in several places in production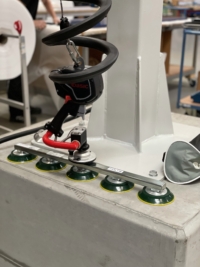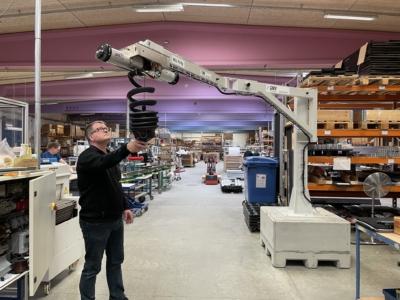 Several places in the production, heavy and large items are moved around when they have to go from one process to another. For example, when foil is to be mounted onto glass signs or when items come from painting and must be lifted off the machine belt and placed onto pallets. To accommodate this need, Modulex got a mobile articulated crane with a BAL-TROL vacuum lifter from Lifts All. The crane can be moved around the production with a pallet lifter and the articulated arm ensures great flexibility in both lifting and handling of different elements.
No more heavy lifting in crooked positions when items need to be painted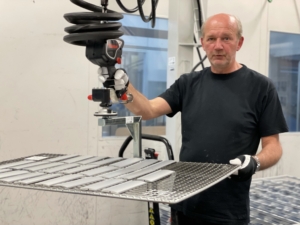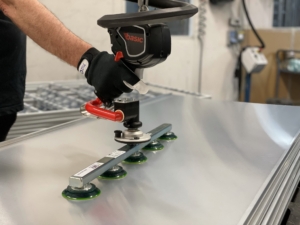 In this part of the process the problem was that plates of up to 25 kg each had to be lifted and placed in the center of a track before being led through the machine for painting. This is a heavy process and often the cause of many inappropriate twists in the back because the plate is carried far from the body when placing the plate onto the track.
Smaller elements placed on net shelves are also to be lifted and placed onto the track. The shelves are heavy and has proven to be a cause of injuries because a disproportionate amount of weight are put on the thumb joint during handling.
Lifting solution that runs on air completely
Because this area of the production is a so called Atex area where all kind of electrics are prohibited, we chose a solution that runs on air completely. A BAT-TROL vacuum lifter from Lifts All with the possibility of applying grabbers for lifting and moving the net shelves. The lifting equipment is suspended in a fixed column crane, so the whole working area is covered. This solution relieves the workers of heavy lifting and reduces the number of awkward and crooked positions.
The products we used at Modulex:
BAL-TROL vakuumlifts from Lifts All suspended in a fixed column crane from GMV
Accessories: Special grippers for BAL-TROL for lifting net shelves.
Custom made lifting equipment for rotation of large and heavy items. The lifting equipment is suspended in an existing fixed column crane.
BAL-TROL vacuum lifter from Lifts All suspended in a mobile articulated jib crane.